Published on September 25 2015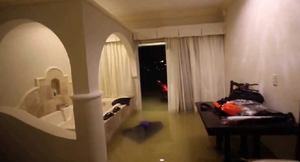 The memories from the night are a little foggy but I know for a fact they involved sitting in the bath with a bottle of wine (ah - there's the culprit) and texting basically everyone I knew. You'd think what I said to people while obviously intoxicated or the roaming charge would be my concern here but my biggest issue came maybe an hour after that when the water from the bath not only started to pour out of the tub itself but out of the bathroom.
In fact while I myself had left for a room on a different floor the water decided to follow suit and it wasn't long until it found itself dripping down the stairs into the reception area.
​Even my drunken self understood that flooding the bathroom of a hotel was bad enough but flooding two entire floors was a little more than a faux pas, I set about apologizing and helping to clean up but the hotel staff seemed surprisingly well natured about it. I had packed my things expecting to be told never to come back but instead they set me up in a separate room. It was on the same floor as the swimming pool which the staff got a good laugh from but I can't really blame them for that.
Oddly enough when I offered (of course) to pay for any damages and man hours in rectifying the room the manager wouldn't hear of it and instead refused to charge me for the night at the room. I was a little bewildered and tried to make sure that it wasn't the bath that attacked me but my intoxicated longing for a bath had apparently only held my attention for all of five minutes before I wandered away leaving it to its own devices.
The upshot is I won't have an issue staying at a Spanish hotel again. I think a belligerent drunken tourist provides some comic relief in an otherwise boring shift.